Edufest 2009 saw a crowd of over 200 children from homes all over Mumbai, Thane and Gujarat participating in the 2 day event. The theme this year was 'Path to Excellence'. The theme was chosen in order to educate the children about the importance of internal excellence in terms of their inherent qualities, strengths, positivity as well as factors which cause fear, shyness and anger control.
External excellence was also dealt with by teaching the children to dream and have a vision or objective, how to inspire and motivate themselves and finally how to set goals and achieve them.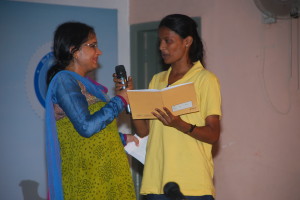 It provided a platform for the children to showcase their hidden talents. The event saw the success stories of Edufest 2008 further unfold as the shy young girl who admitted to a lack of confidence, came forward yet again, but this time to thank Udaan for helping to achieve better scores in her 10th standard exams.
Edufest 2009 Schedule
Day 1:-
-Dr Tushar Guha
-Rev. Sr. Vinaylata
External Excellence through Meta Mind- Art and Expression
-Know Thyself
-Emotion Management
-Confidence
-Creative Management
External Excellence through Meta Mind Management-Attitudes of Excellence
-Winning
-Focus
-Discipline
-Strategy
-Passion
-Striving for Excellence
Interactive Sessions (Young Achievers)
-Dr. Pooja Jain
-Ms. Rupal Kulkarni
-Ms. Sonali Das
-Ms. Gouri Nawathe
-Ms. Sidhi Desai
Excellence through Yoga
Closing Session
Entertainment Programme
Music and Dance for the children
Day 2:-
Creative Workshop
Keynote Speech- Keys to Speech
"Realize the power within"
-Motivation
-Encouragement
-Positive social behaviour
-Self discipline
"Creating abundance in life"
-Abolishing negative childhood traits
-Reprogramming
-Harmonize and empower the mind
-Positive focus has cascading effects
-Aham Brahmasmi (I am the Godhead)
-To increase personal excellence quotient of the individuals
-To identify personal attributes of excellence like passion, conviction, confidence, commitment, etc.
-Explore areas where excellence attributes can be applied
-Assess intrinsic as well as extrinsic areas of excellence
Interactive session
Closing ceremony
Guests of honour
-Padmashree and Padmabhushan Mrs. N Rajam
-Mrs. Sindhu Tai Sapkal
-Rev. Sr. Babara