"Udaan Vigyan Ki" – Inspiration from Science: The fun way
Children are naturally equipped to learn much more through observation and investigation. Every experience, every word, and every toy deeply impacts their understanding of their world and the connections they make. Every time a child learns something new, the brain rewires itself based on the child's understanding. Every time the child repeats a task or a skill, that particular neural pathway is reinforced, or strengthened. This understanding is backed by research and observations made by several eminent scientists.
Before children can understand a thing they need experience: seeing, hearing, touching, tasting, smelling, choosing, arranging, putting things together and taking them apart. Children need to experiment with real things. Children need lots of concrete experiences with a variety of materials – cutting, sticking, manipulating, assembling etc.This rich experiential base will later provide fertile ground to nurture abstract and abstruse concepts. For example, all of us know that little children love crumbling and tearing old newspaper. The paper has a warp and a weft. While tearing they discover that they are able to tear long, almost parallel strips in one orientation and only short strips in the other direction. Why this?
The Purpose of our Project: "Udaan Vigyan Ki – Inspiration from Science: The Fun way" is all about active learning and passive teaching.
The delivery of our project is intended to be over a large number of schools for the underprivileged children. Presently this project is being implemented in "Shri Harkrishan English School" located at Tulsidham area and Sri Ram Vidya Mandir, Veer Savarkar Nagar, Opp. Thakur College of Thane (West), Maharashtra.
Relevance and scope of the Project:
Toys are always a passion for the children and they would go to any extent to play, learn, break and reconstruct. In other words, if children are given the opportunity to consolidate their understanding of basic science principles by observing and experiencing scientific phenomena, they will have a more profound understanding. After all, science is an effort to match our experiences in nature with our conceptual understanding. Thus, we wanted children to realize that science is all around us and, therefore, stimulating and beneficial to study.
Dr.Arvind Gupta from Pune University (www.arvindguptatoys.com) pioneered the idea of "Toys from Trash,"a fresh proposal to teach about sustainability and a fun way to understand otherwise challenging scientific principles. Curiosity exists in the mind of every young child. The manner in which we probe these children will influence their level of curiosity and creativity.
After having proper orientation and understanding, the team carries out their group work in the following manner:
Joint Effort of the team:
Identifying the experiments with increasing levels of difficulty per Standard (std 5th,6th, 7th and 8th).
Preparing the Print outs
Preparing the list of items required for each experiment
Procuring the materials and segregate as per the experiment per school, per class
Circulating the experiments one week in advance to all the team members
Confirming the availability with the school for the sessions before hand
Going through the experiment well in advance
Practicing the experiment in advance.
Preparing and keeping ready the scientific principles which are planned to be covered from the experiments.
Managing the show on the floor, while interacting with students and "ensuring that through the experiment, the scientific principle, as applicable, is clearly understood by the students".
Capturing the whole experience on photos and videos appropriately.
Taking feedback from teacher, students and school authorities.
Preparing a Booklet of various experiments Std. wise (if possible curriculum wise), a database of list of experiments, materials required etc. which can be used for other schools as well as in the forthcoming years for new batches.
 Details of the Implementation:
 We gather and split the children in small groups of 6, to allow an opportunity for each child getting hands on experience with the experiment. A decent amount of preparatory work has to be done before hand in advance, so that there is no time lost during assembly of toys. This is required to ensure that the children should not get distracted and lose focus.
We then carry out the following:
 Introducing them to the concept and putting the whole process in perspective (One Member from the team)
Circulate hand-outs having instructions.
Assemble them at the respective locations where the material is already laid, experiment wise.
Allow children design and play with the toys.
Encouraging the interactions within the group.
Present their findings to the other groups
Share some extra points to help the children understand the concept better.
Rather than simply answering children's questions or lecturing, we let the children discover scientific phenomena on their own, which we feel, would lead to a more solid conceptual foundation. The result is amazing to experience. A representative from every group presents the method with which they did the experiment. Some of them will also able to find out the scientific principle behind their experiment. Wherever required and necessary, we provide them with relevant inputs in a way which also makes them participate and think.
Following are the glimpses of some of the experiments carried out:
1)    Static tissue experiment which gives a "feel" for static electricity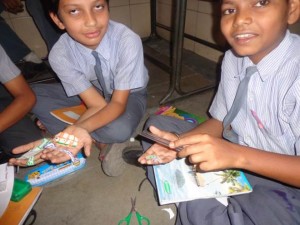 2)    Tumbling toy experiment gives "feel" for centre of gravity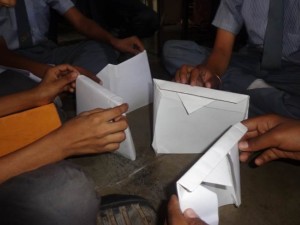 3)    Bottle Bag which is a sheer fun of recycling and a noble act to help environment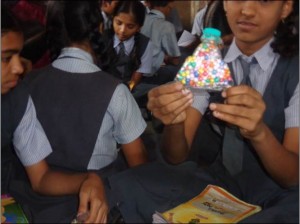 4)    Carry Bag – Art of Paper Folding – students learn to follow instruction and make a useful object of daily use.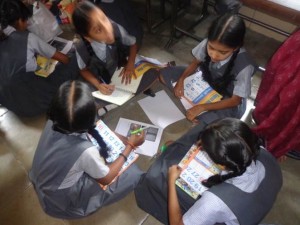 5)     Which holds more? A math magic which is totally counter-intuitive and mentions that with the same surface area of the boxes, the volumes could be vastly different.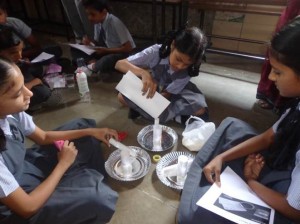 (6 ) Shimmering Matchbox experiment which teaches the concept of centre of gravity and friction:
(7) Coupled cups – Fun with pressure – As hot water cools, a vacuum is created which makes the cups stick together.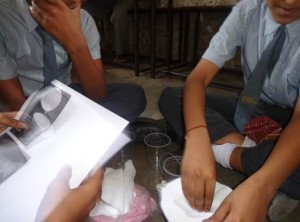 (8) Ball in the air – Fun with Pressure – As you blow the ball floats in a stream of air because of conversion of potential energy into kinetic energy.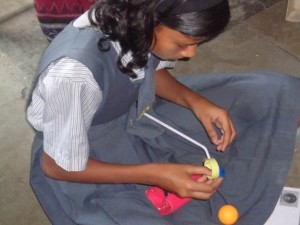 The benefits of the above projects, to list a few:
Increasing children's affinity towards science,
Exposing them to a fun filled and interesting way of learning science,
Providing the underprivileged children the opportunity to perform experiments and get the feel of science,
Helping the teachers in making students understand the concepts faster and
Institutionalizing a novel way of educating science to one and all.
Indirect benefits – Team spirit, Inter student communication skills, Observation power, Curiousity, creativity, Leadership skills, removal of stage fright, presentation skills etc.
Sustainability:
This activity has a potential to make difference in the future performance of children in terms of school academics, social behaviour and participation in extra- curricular activities.
Subsequently its impact can be assessed on the other areas which also get improved due to this activity viz. – reading, vocabulary, understanding, comprehension, communication, confidence of speaking on stage etc.
Feedback from teachers can help take the activity further viz. challenges they face, methods to improve the sessions, their level of participation, will they be ready to implement in other sections of school and so on and so forth.
Feedback from Children can also help in focussing on areas which will directly impact their current study and can also mitigate the challenges they face and what they would aspire from the team
This activity also has potential to be replicated in other under privileged schools
Conclusion:
Our basic motto for this experiment, as aptly put it by Dr. Arvind Gupta, is to see that philosophically the children should not be given the science principle. Instead they should DISCOVER it themselves.
These efforts will also be taken forward to other schools and we are very sure of positive outcomes.
By exposing children in underprivileged schools to application-based science, we could foster an interest in science and observed it grow. We firmly believe that this exposure to science will convince them that they, too, can become a part of the next generation of leading scientists.
This activity will help our group also in strengthening our concepts on Group Work such as leadership, roles, composition, cohesiveness, tasks and performance.
It will also help us in developing our skills on facilitating group behavior in specific areas like team building, decision making, leadership, trust, empowerment, group collaboration ultimately leading to organizational effectiveness.
We humbly owe our success of this project to Dr Arvind Gupta.