Udaan Vigyaan Ki conducted the "Fun With Science" for grade 5 students of HariKishan School, Thane. The purpose of this segment was to give an opportunity to students to express and build confidence in front of their fellow classmates. Every member of the team participated in the presentation made for their peers and explained the materials required, the assembly and the principle behind the working of their hand made toys. It started with each team of students demonstrating the experiment carried out by them in the previous week.
Concepts demonstrated:
• Force:-Demonstrated, by performing, watching and comparing the results when an inflated balloon is released, an inflated balloon released with a straw attached to the open end and when an inflated balloon released when its opening is constricted with a small card sheet.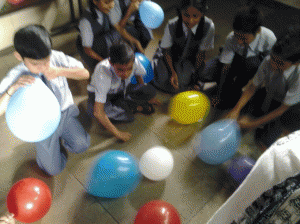 • Air-Pressure:-Demonstrated using "Bottle and balloon experiment
The students from grade 5 surprised the Udaan team by coming up with their own toys/experiments from the concepts learned from the previous sessions. One of the team explained the concept of Photosynthesis and the other team made a jet plane like toy using straws and balloon. The 6th grade students did presentations of their project made in earlier class. Teams had built models on topics like "The Phases of Moon" which they presented by explaining the concept and how they went about building the model   .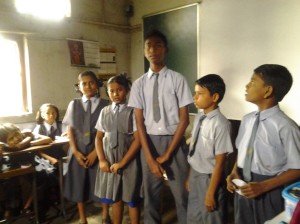 Students also went about doing a Craft assignment "The Talking Frog " using paper frogs giving information aboutfrogs , food etc